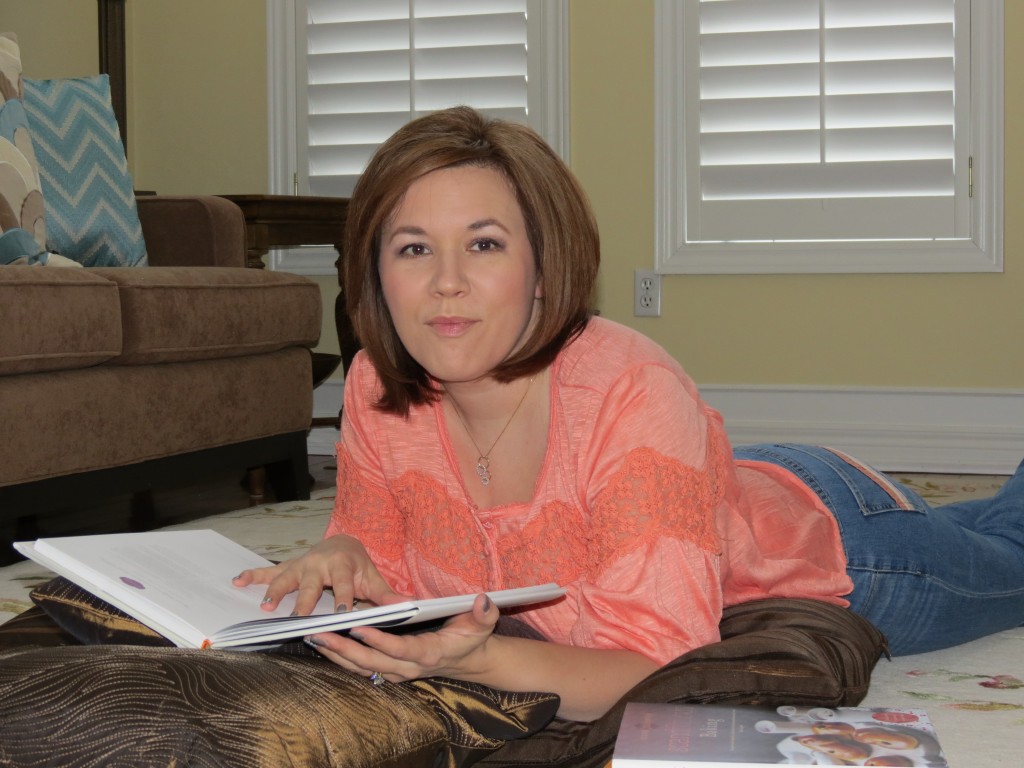 I'm Chantal, and I'm so glad you found my blog!
I LOVE to read.  And not just any kind of book.  Cookbooks.  I remember the first time I put my hands on Nigella Lawson's How To Eat.  The book read like a novel, a culinary novel.  I was in love.  It became my bedtime reading, alongside a glass of wine and a bowl of potato chips.  There were no pictures of the recipes, but the writing was so engaging that I was convinced I just had to try all of these recipes.  I felt like she was speaking to me in conversation, and that I could connect with her through her words.  I wasn't just reading her story, I was hearing her voice.  (Figuratively speaking, of course.  I'm not crazy.  Yet.)
I was illuminated with the idea that a recipe writer wanted to share WHY they loved this particular dish and wanted to share that thought, that feeling of comfort with you.  I then began to seek out authors with similar writing styles, but my love of cookbooks and cooking goes way back to when I was a small child.  Back in the 70's (I know, work with me here), I used to sit on the kitchen floor, right next to the bottom drawer where mom kept her recipe magazines, and I would read them cover to cover.  I especially loved the Holiday issues.  Better Homes and Gardens rocked my world then (and to be truthful, nostalgia aside, it still does now).
I started collecting cookbooks in high school.  Yup, nerd alert.  But there I was, drawn to cookbooks that had great food styling pictures and interesting recipes.  In university, where reading was something you did 8 hours a day, I would treat myself to the occasional cookbook purchase, and sink my teeth (and brains) into something I really wanted to read, as opposed to having to read it for the purpose of spitting out a term paper.
Fast forward a few decades, and here we are!  Right here, on my blog, where my love of cookbooks has turned into a fun project where I get to spill my creative juices all over the page, and share my ideas, musings and opinions with you on a regular basis.  I might not always be talking about food (shall we make cocktails, or talk about shoes anyone?), but I promise I'll give you the honest truth about what I'm thinking when I'm writing it.
My collection of books is growing at an alarming rate, but that doesn't worry me too much.  I just wish I had more time to read my books…and food magazines, oh that's just a lost cause.  I think they've started reproducing in my basement.  (Don't tell my husband.  He calls the storage room downstairs "the cookbook bunker".)
These days, I'm pretty busy with a full time career, mother of a beautiful little girl named Gisele, and wife to Al, a civil technologist who was raised on a dairy farm, so you'll see me affectionately refer to him in my posts as Meat and Tater Man.  I grew up in Sudbury, in the heart of Northern Ontario, but I now make my home in Oakville, Ontario, Canada.  So if you see the word "eh" in my blog, that's the Canadian in me trying to filter its way onto the page.  I'm also French Canadian, so you might also see some "eh oui", oh yeah.
My new passion is blogging.  I love capturing my food creations in a snapshot and talking about food, so a blog was right up my alley, and just what I needed to unleash all of these creative ideas that were cluttering my head space.  My job is pretty serious most of the time, so I needed an outlet to have fun, and this is it!  I hope you join me often to catch a glimpse of life through my eyes, and to get a slice out of what I'm cooking today (or buying…I'm a self-confessed shopaholic).
About this site
I came up with the Lit Kitchen idea when I realized that my passion for reading extended itself mostly to cookbooks.  I read them like novels, and you'll often find many of them by my bedside table.  For that reason, I view cookbooks as "culinary literature", or cookbook lit.  Cookbooks fuel my creativity, and help me come up with new ideas in the kitchen all the time.  Thus, the Lit Kitchen was born.
You'll find all kinds of recipes on this site – it's not a single focus site, like those that are dedicated to healthy living, or gluten free.  Though you will find those types of recipes here, they will rub shoulders with some equally decadent and indulgent little numbers too.  Variety is the spice of life, and I want to explore all venues when it comes to cooking.
I'd love to hear from you, so if you have any comments or questions, don't hesitate to comment on any of my posts!  I will do my very best to respond to all of them.  As with all feedback, sometimes it's glowing, and sometimes it's more on the constructive side.  I will attempt to post comments that provide our readers with a diversity of opinions, but viewed in a positive light.  If your comments are too harsh, I may not post them on the site.  The purpose of this site is to make you smile, and hopefully give you a few ideas to get creative in your kitchen.  So, positive vibes are what you will get from the community when you navigate these pages, I promise!
All text and photography is my own.  I'm just getting started, so I'm using a Canon Power Shot (and the occasional iPhone shot) for my photography.  Someday, I'll upgrade to something better, once I get the hang of this photography stuff.  Please feel free to pin my photos or re-blog, as long as you credit/link back to the original post. If you would like to republish any images or text to another site or your own blog, please credit The Lit Kitchen with a link back to this site or the specific post, or contact me directly for permission.
About the recipes
I'm not a professional chef, just a self-taught and mom-taught cook (the 500 cookbooks also help).  Every recipe you find on my site will have been made at least once, by me.  The recipes I post are very often developed by me, but I also like to reproduce recipes from cookbooks, and then give them my little twist.
As much as possible, I have tried to credit the source for each of my recipes.  After all, much of my inspiration comes from the many books I read.  Most of the recipes will not necessarily be in the original author's format.  The reason for this, I believe, is that a recipe is merely a blueprint for your own creativity to adjust and adapt.  Don't have walnuts?  How would it taste with pecans?  Nut allergies in your family?  How would this dish taste without them?  Play around with this concept of substitutions and be creative.  You will find it easier to cook when you can easily substitute your ideas for those of the recipe's author.
I have been told that people can feel daunted when faced with certain recipes, because they don't have a bottle of cardamom, don't know what achiote is, or don't care for a certain type of ingredient.  In this case, I say "challenge yourself"!  Here is a golden opportunity to take a recipe and make it your own.  You might be delighted with the results!  As much as possible, I will attempt to suggest substitutions of certain ingredients in my recipes, to get the creative juices flowing.  Soon, you will be coming up with your own favorite combinations of ingredients, and, you might just even begin to start creating your own recipes, for completely different dishes, using favorite flavour combos as a starting point.
The estimates for prep time and cooking time are approximate, as I tend to calculate how much time I spent on a recipe after the fact, instead of recording the time with a timer while I'm cooking.  (If I'm baking, though, I do use a timer, every time.)  So, if it takes you a bit longer, or a bit less time, that's ok.  It's probably my estimating skills that are a bit off, as opposed to you not doing it as quickly (or slowly) as me.
Regarding cooking times, these really are approximations.  I find my oven to be relatively hot, so I always reduce the amount of time a written recipe calls for by at least 5 minutes, sometimes 10, depending on how long the cooking time is.  As a result of this, you may find that my cooking time estimates may be a bit on the low side, so your best bet is to set a timer for the lowest cooking time, then continue cooking if it needs a few more minutes.  You can always continue cooking something under done, but you can't fix something that's over done!
On another note, I also want to comment about types of ingredients.  In nearly every book I read these days, the writer is specific about the ingredients that are used – organic, free range eggs, unsalted butter, extra virgin olive oil, etc.  While I appreciate the desire to use only the best, I think one has to consider cost, and tastes when shopping for food.  In this spirit, what I suggest then is that you buy the best you can afford, or the brands you know and enjoy that work for you today.  I will attempt to comment on all types of acceptable substitutions in my recipes where appropriate, but know that I will not order you to use only unsalted butter.  If you do want to use unsalted, or it's the only thing you buy, then knock yourself out.
I can honestly say that after cooking thousands of meals, and baking hundreds of desserts, I have never once had an eater come up to me and say, "why didn't you use unsalted butter in your recipe?"  I assure you, I've cooked from hundreds of recipes that called for unsalted butter exclusively, and have always used regular, salted butter.  I don't ever think I will change either.  Think about it – who will know, other than the cook, what type of butter was used in a recipe?  Unless you make two batches of the same recipe, and have tasters eat both side by side in a simulated taste test, it's very unlikely anyone will complain, or even have the ability to tell which is which.  Having said this, if a professional chef ever came over to my house for dinner, and I was cooking one of their recipes, I might be tempted to use the ingredients as prescribed in the recipe.  But, otherwise, the best I can afford will do.
Incidentally, I really do get why chefs want you to use unsalted butter.  This allows you to better control the amount of salt in a recipe.  I agree, in principle, with this concept, however, I have not found that the palates of my dinner guests have been sophisticated enough to decipher a difference yet.  Or, maybe they don't care, when surrounded by friends and loved ones over the sharing of a meal.  Maybe they're too wrapped up in the moment, enjoying themselves, expressing gratitude for the ability to enjoy such an occasion, and that's what really matters…
You will also notice that I use alcohol in my cooking.  I realize this isn't the way to be budget conscious, but I have successfully substituted every ounce of alcohol with either juice, broth or water, and have not dramatically altered a recipe in a way that would compromise its taste.  So, do not fear that you have to start buying wine and other spirits just so that you can whip up a few of these recipes.  I encourage you to experiment with one or two things at a time, and see what works in your pantry.  I rarely used to drink wine when I was younger, mostly because I could not afford it.  Therefore, I started using vermouth where recipes called for a bit of white wine – an open bottle of vermouth will last indefinitely in your pantry, and a little goes a long way.  It was also handy to be able to serve martinis without any extra effort when a special occasion presented itself.  However, if you have a preference for Marsala or sherry, these would work equally well in place of my vermouth.
Other ingredients I use frequently are spices.  Again, not always a low-cost option, especially if you really enjoy saffron and cardamom, but let me explain.  If you buy a bottle each of ground ginger, ground cloves, cinnamon and nutmeg because your name was drawn from a hat to make one pumpkin pie at your Thanksgiving potluck dinner, then, yes, this will be an expensive dessert for you to make.  However, if you look for recipes that have cinnamon or nutmeg in them, and start cooking regularly with these spices, the expense will have been worth it.  Challenge yourself to experiment with spices, or to substitute one for the other and see how the dish tastes in its new, altered form.  There are many benefits to using spices to enhance the flavour of your food:  spices are basically calorie free, they take up little space in your kitchen, and they last for quite some time (though not 6 years, so if it has been that long, toss it out, and consider the reasons why it went stale in your cupboard; you can then decide if you should buy another bottle or not).